We are pleased to announce that our ComfilePi (Industrial Raspberry Pi Panel PC) products have been UL Listed for both the United States and Canada. Models include the CPi-A070WR, CPi-B070WR, CPi-A070WT, CPi-A101WR, CPi-B070WRB, CPi-A150WR, CPi-A070WRB, and CPi-A102WR.
Our UL listed products can be searched for at UL's online database. Our UL Certificate of Compliance, along with our other compliance certifications, can be found at our Compliance Certifications page.
ComfilePi Panel PCs manufactured since April 2022 will have a label on the back with a UL mark.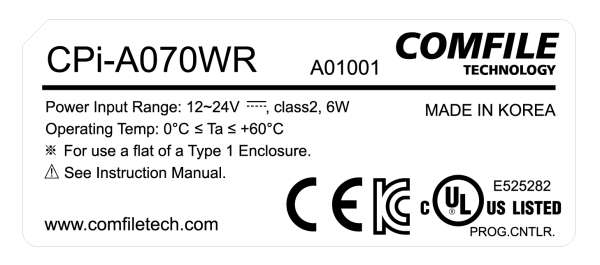 Recent Posts
We are pleased to announce the next generation of our very popular Raspberry Pi Panel PCs: The Co …

We are pleased to announce the next generation of our very popular Raspberry Pi Panel PCs: The C …

The following is a small showcase of customer solutions using COMFILE Technology's products. …