Windows 7/10 Panel PC

COMFILE Technology's Windows 7/10 Panel PCs feature desktop functionality, yet are designed to withstand the harsh environments typical of industrial applications.
1. The motherboard is not just any motherboard. It is specifically designed for industrial applications.
2. Embedded variant of the operating system (Windows Embedded Standard 7 or Windows 10 IoT Enterprise) is the default option; typical for industrial applications.
3. All product are subject to a 48 hour aging and extreme temperature test to ensure reliability.
Wide Selection
A wide selection of screen sizes to choose from.


Fanless and SSD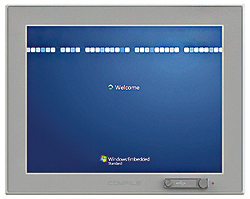 Choose fanless and SSD options for harsh operating conditions.
The CPCV5-150WF is fanless with solid state storage.
The front panel features a USB port for convenient connectivity of USB memory or other USB peripherals.
Embedded OS
Dedicated embedded OS variants tuned specifically for industrial applications.
Instead of a general purpose desktop OS, Windows Embedded Standard 7 or Windows 10 IoT Enterprise is installed. This optimized variant of Windows includes only the essential features for reliable, dedicated operation.
OS customization tools are not typically available to end users and the customization and installation process is quite cumbersome and complex. Our panel PC operating systems are already optimized so installation is simple and users can be be up and running quickly.
Hard Disk Protection
The File-Based Write Filter (FBWF) is an essential feature for industrial applications. It protects the system from mistakes, worms, viruses, or other unintended changes.
Many of our industrial PCs are already operating reliably in the field. We have accumulated years of expertise and creating stable, industrial PCs of high quality is a top priority.